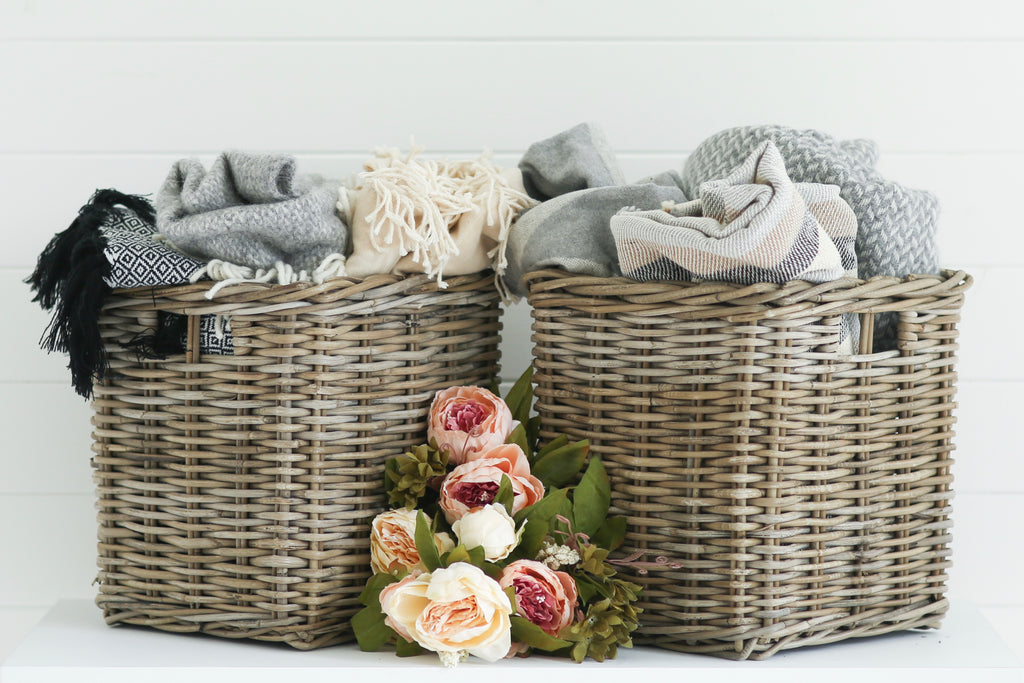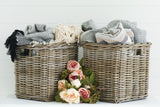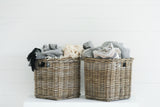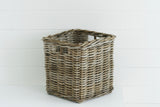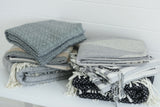 Smokey Rose Package
Our Smokey Rose Package is a lovely rustic set of 6 warm blankets displayed in 2 cute little Willow Blanket Baskets.
Perfect for your guests to throw over their shoulders or knees to keep cosy on a chilly night! Ideal to style outdoor seating areas and campfire style chill out areas.
Each little cube basket contains three rolled up blankets in a mix of neutral subdued scandi tones, mainly across Grey, Natural, Black and White.
Each set of blankets will be different in colour mix, pattern and fabric. 
- Sadly the pretty flowers are not included!
A little about the Blankets and Throws...
Superior Quality
Complimentary Colours
Size, approx 120x140cm
Your Package of Blankets will contain a mix of fabrics. Which may include 100% Lambs Wool, 100% Cotton, Natural Mix Materials and 100% Polyester.
Clean and Freshly laundered before every hire.
Very popular for Tipi and Barn Weddings, a lovely finishing touch and styling feature.
The Blanket Basket is...
Lightweight and Portable (with handle)
Natural Grey/Brown in colour
Approx 31cm x 31cm x 55cm in size
A great match to our Willow Umbrella Stands (they look super displayed together!)
Delivery and Collection of your hired umbrellas...
Where do we hire to? - We hire Nationwide to all UK addresses 
Who delivers and collects?

 - delivery and collection is made by DPD using an trackable, interactive service (which lets you control your delivery)

Cost - flat rate of £22.50 in total (equivalent

 

to only £11.25 each way)
When do we deliver?

 

- Usually 3 working days before your wedding or event
When do we collect?

 

- Usually 2 working days after your wedding or event
Logistics - Would delivery directly to your home and collection from your venue be helpful? Just tell us your preferred addresses during checkout!
We are recommended by...
Save
Save
Save
Save
Save
Save
Save